Peter Lorimer a player that everyone knew because of his reputation for having the hardest shot in football but those of us that were lucky enough to see him play know he was so much more.
A good one for me as a young fan Peter was my hero.
A pivotal part of that great team of Dons he holds two Leeds Utd records starting as a 15 year old he became our youngest ever player a record that is unlikely to be ever beaten (15years and 289 days).
That first match was against Southampton back in 1962 and who would guess then he would become our greatest ever goal scorer eventually scoring 238 across all competitions. 168 of these in the league at an average of one every 3 games which is a fantastic return for someone for the most part played R/H midfield.
Must add the 238 figure is really 240 as can think of at least two other very important goals in 1967 & 1975 that were ruled out but we wont go into that.
Goals are one thing but its a gut feeling that lash also would hold the Club record for assists if they had bothered to count back then.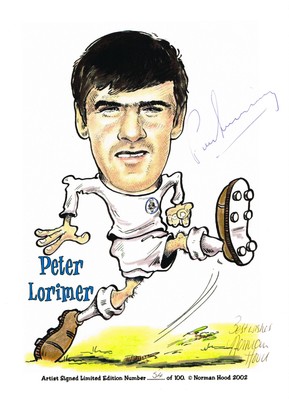 So how would you describe him as a footballer to someone that never saw him ?
Well when it comes to range of passing/crossing and shooting from set pieces think Beckham with more power then add that he could run a lot faster, dribble & tackle significantly better along with scoring from open play you really do wonder what his value would be today.
When looking at Peters amazing stats you need to remember in those days the rules actually favoured defenders who were often out to stop by any means, bookings and sending offs were rare.
Peter played on after Leeds showing his skills in places such as Canada & Israel (and York City), his love of football was obvious.
Unlike todays stars players often needed to take real Jobs when they finished their careers and its well documented that Peter became a publican, maybe some on here dropped into The Commercial inn for a chat with our hero.
Last time I saw Peter play was about 20 years ago when he turned out for "Leeds United Veterans" on Selby Towns ground against a local over 35's team in a Charity match (bit like soccer aid of its day
)
The Leeds team were managed by another hero John Charles and Eddie Gray also turned out.
Anyway Peter wasn't the slim young lad he once was and was clearly not going to do any running but still showed is skills, spent almost the entire match in the centre circle receiving the ball from lesser players and pinging quality 40yard passes to a couple of younger players that spent the day running the flanks. Great day and chat with the lads in the Socia Club afterwards.
Anyway enough from me enjoy a few goals -
So what about your memories ?